The idea originally was to compare UK and US covers based on an assigned theme each week and choose the winning cover. I will be twisting it slightly: not specifically US and UK covers, just different editions.
La idea originalmente era comparar las portadas del Reino Unido y de los Estados Unidos sobre la base de un tema asignado cada semana y elegir la portada ganadora. Voy a ser torcer ligeramente: no específicamente EE.UU. y Reino Unido cubre, sólo diferentes ediciones.
This week's theme is "spacecraft" and the quote with it is "Slipped the surly bonds of Earth to touch the face of God"
El tema de esta semana es "nave espacial" y la cita con él es "se deslizaron por los lazos de la tierra para tocar el rostro de Dios
"
This week since I hadn't read that much book with spaceships it seems, I went on the hunt for covers and find an interesting book
We Are Legion (We Are Bob)
and the blurb sounded comical and intriguing.
Esta semana como parece que no he leído muchos libros con naves espaciales, así que me fui a cazar libros con cubiertas y me encontré un libro interesante We Are Legion (We Are Bob) y la sinopsis me pareció cómica e intrigante.
Cover A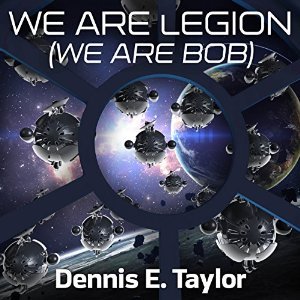 Cover B
This one was a little hard, because I like them both really, now the one that best suit the tag will be A, but for some reason B is my winner, it has this ominous felling about it that I think suits best what you will be feel if you were going to be in space.
Esta fue un poco difícil, porque las dos me gustan, ahora la que mejor encaja con la descripción del tag seria la A, pero por alguna razón B es mi ganadora, porque tiene un sentimiento mas ominoso que creo va mejor con como se sentiría estar en el espacio.
Next week will be looking for a cover featuring a book or books: "A room without books is like a body without a soul."
La proxima semana las portadas destacaran un "libro o libros" y la frase sera: "un cuarto sin libros es como un cuerpo sin alma."